In the world of athletic wear, finding the perfect sports bra is akin to discovering a hidden treasure. It's not just about the support; it's about the comfort, style, and functionality that seamlessly blend to enhance your workout experience. Enter Girlfriend Collective, a brand that has taken the fitness world by storm with its eco-friendly ethos and innovative designs. Among their range of remarkable products, their collection of sports bras stands out as some of the best-selling items, and for good reason.
Must-Have Sports Bras for Every Sweaty Girl
Let me walk you through attention-worthy sports bra collection from Girlfriend Collective that are available in different shaped and colors that suits various styles and personality.
Paloma Racerback Bra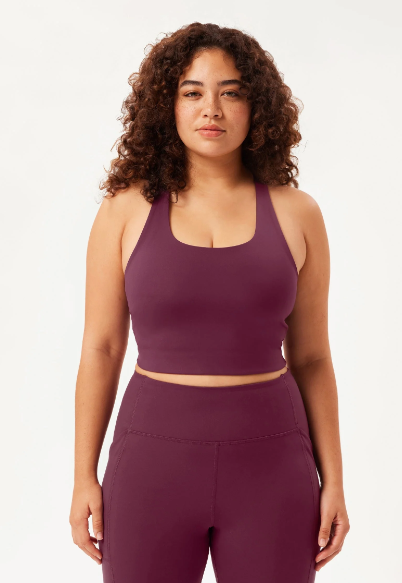 The Paloma Racerback Bra from Girlfriend Collective is the embodiment of versatility. It is tailored for low to medium-impact workouts; this sports bra seamlessly transitions from gym wear to a trendy top for casual outings. Its racerback design offers ample support and adds a touch of style to your workout ensemble. The Paloma is a true testament to the brand's commitment to crafting functional and fashionable pieces.
Topanga Halter Bra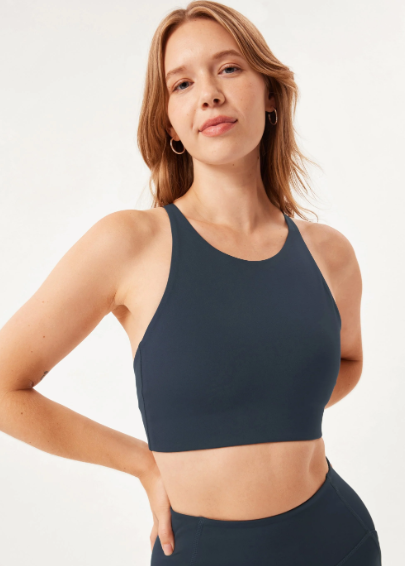 The Topanga Halter Bra is a revolutionary fusion of a sports bra and a crop top. Made from recycled water bottles, it showcases Girlfriend Collective's dedication to sustainability. With a high neck and a low back, this bra offers a unique blend of coverage and style. The adjustable criss-cross straps ensure a secure fit, allowing you to move with confidence during your workouts. The Topanga proves that eco-consciousness and elegance can go hand in hand.
Milo Racerback Bra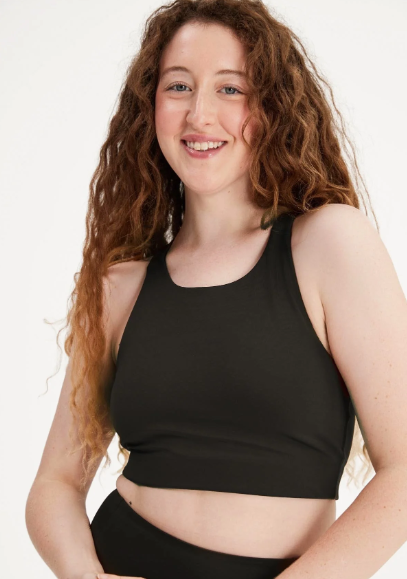 Designed for hot and sweaty workouts, the Milo Racerback Bra lives up to its promise of keeping you cool. Constructed with FLOAT fabric, it perfectly balances lightness and support. The thin racerback and high neck design enhance breathability while ensuring you're covered in all the right areas. This bra becomes your reliable workout companion, offering both comfort and style when you need it most.
Stevie Shirred Ballet Bra
The Stevie Shirred Ballet Bra brings a touch of ballet-inspired elegance to your fitness wardrobe. By combining medium support with sustainability, this shirred v-neck bra offers a unique look for your workout sessions. Its design ensures a secure fit and adds a hint of sophistication to your athletic wear. With Girlfriend Collective's commitment to sustainability, the Stevie Bra aligns with your eco-conscious values.
Simone High Support Bra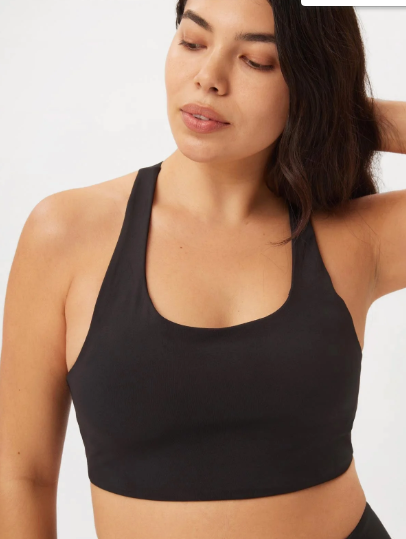 The Simone High Support Bra is a testament to the diverse needs of athletes. Whether you require rigorous support or more flexibility, this bra has you covered. Adjustable elastic criss-cross straps and an adjustable hook and eye closure provide customizable support for your most challenging workouts. Including recycled, recyclable interior cups offers added padding while staying true to the brand's sustainable philosophy.
Dylan Tank Bra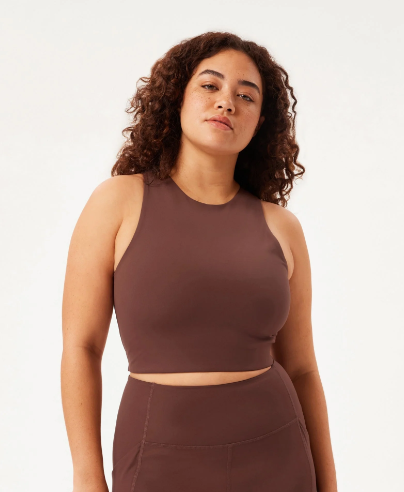 For those seeking versatility, the Dylan Tank Bra is a game-changer. It's longline design and contoured racerback provide a comfortable fit without constricting movement. Functioning as a sports bra and a crop top, it offers a unique layering option that seamlessly pairs with various outfits. The high neck design keeps you covered, making it a go-to choice for any fitness enthusiast's wardrobe.
Bianca One Shoulder Bra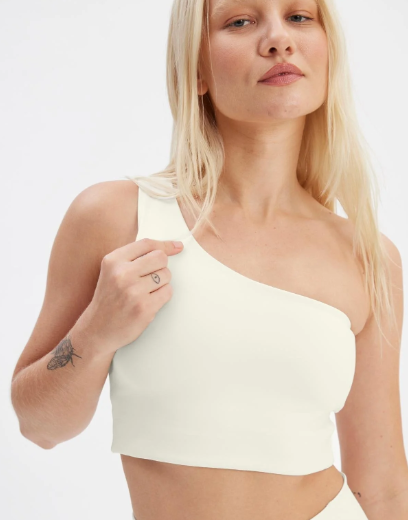 The Bianca One Shoulder Bra exudes confidence and versatility. Its one-shoulder design adds a touch of edginess to your workout ensemble. This bra pairs effortlessly with a range of bottoms, from leggings to jeans, making it a versatile choice for both exercise and casual wear. The Bianca Bra's unique aesthetic showcases Girlfriend Collective's ability to push the boundaries of traditional athletic wear.
Final Thoughts
In the competitive world of sportswear, Girlfriend Collective has managed to carve a niche by offering products that seamlessly merge sustainability, comfort, and style. With its range of sports bras, including the Paloma Racerback Bra, Topanga Halter Bra, Milo Racerback Bra, Stevie Shirred Ballet Bra, Simone High Support Bra, Dylan Tank Bra, and Bianca One Shoulder Bra, the brand continues to redefine what it means to be a conscious and confident athlete. Whether you're hitting the gym, practicing yoga, or simply embracing an active lifestyle, these sports bras are designed to support you every step of the way.