In a world of ever-changing fashion trends, something must be said for the enduring appeal of wardrobe basics. These foundational pieces form the backbone of any stylish ensemble, offering versatility, comfort, and timelessness. When it comes to curating a collection of essential wardrobe pieces, one brand stands out as a reliable and fashionable choice: Marks & Spencer (M&S). Renowned for its commitment to quality and style, M&S has consistently delivered a range of wardrobe staples catering to diverse tastes and preferences.
Must-Have Wardrobe Essentials from Marks & Spencer
Let's explore why M&S is the go-to destination for those seeking essential wardrobe pieces.
M&S Non-Wired T-Shirt Bras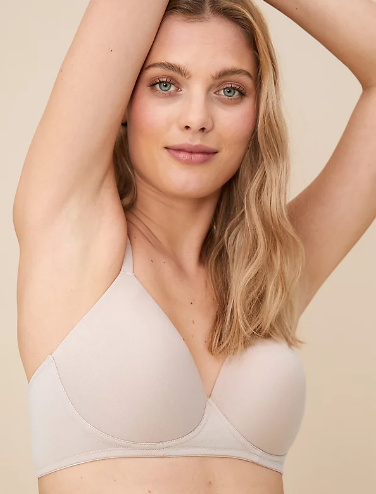 The foundation of any outfit is a comfortable and supportive undergarment. M&S Non-Wired T-Shirt Bras offer the perfect blend of comfort and style. These bras, crafted from a cotton mix fabric, provide a breathable feel, making them ideal for daily wear. The flattering plunge styles and padded cups create a rounded shape without compromising comfort, thanks to the non-wired design. M&S understands that feeling good in your skin starts with feeling good in your clothes, and these bras exemplify that philosophy.
M&S Pure Cotton Striped Pocket T-Shirt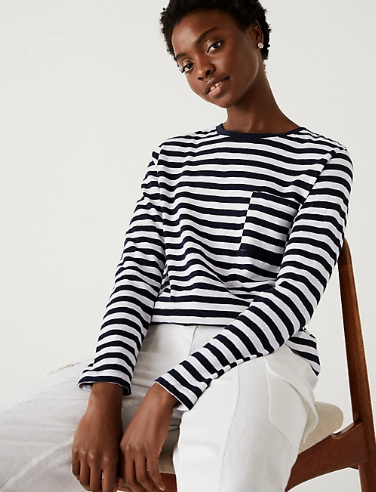 A classic striped t-shirt is a wardrobe essential that exceeds seasons and trends. M&S's Pure Cotton Striped Pocket T-Shirt is the epitome of casual chic. This timeless piece is constructed from cozy slub fabric and offers comfort and style. With long sleeves and a crew neck, it's an ideal layering item that brings bold stripes to any outfit. Its straight fit ensures ease of wear, making it perfect for both relaxed weekends and casual office attire.
M&S Tailored Single-Breasted Blazer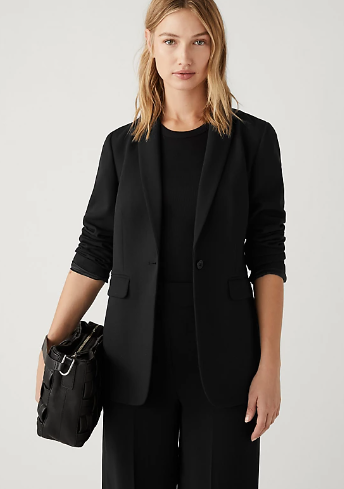 A well-fitted blazer is a must-have for any wardrobe, offering an instant touch of sophistication. M&S's Tailored Single-Breasted Blazer strikes the perfect balance between classic and contemporary. This versatile piece is designed to elevate your formal outfits. The tailored fit, notched lapels, and button fastening create a polished effect. Neat flap pockets and a smooth lining complete the sophisticated design, making it an essential item for both professional meetings and stylish evenings out.
M&S Pure Cotton Denim Jacket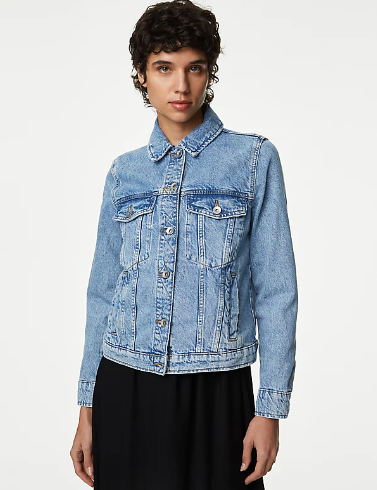 No essential wardrobe is complete without a timeless denim jacket. M&S's Pure Cotton Denim Jacket is a staple that effortlessly complements various styles. Crafted from soft and breathable cotton, the stonewashed finish lends a lived-in aesthetic. The jacket's practicality is enhanced by two breast pockets, making it both stylish and functional. Whether layered over a dress or paired with casual jeans, this jacket adds an undeniable cool factor to any outfit.
M&S Double Breasted Trench Coat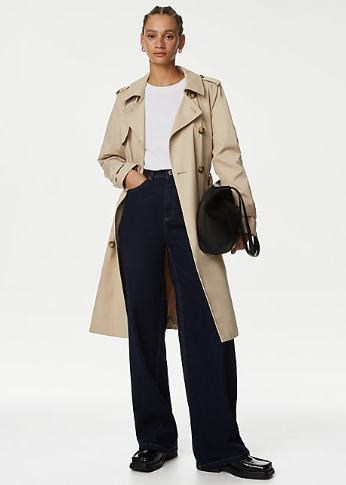 The iconic trench coat is a symbol of timeless elegance, and M&S's Double Breasted Trench Coat upholds that tradition with a modern twist. This regular-fit coat boasts classic features such as the double-breasted front, belted waist, shoulder epaulets, and storm flaps. Made with recycled polyester, it's a testament to M&S's commitment to sustainable fashion. A versatile option for various occasions, this trench coat effortlessly enhances both formal and casual looks.
M&S Harper Supersoft Cigarette Jeans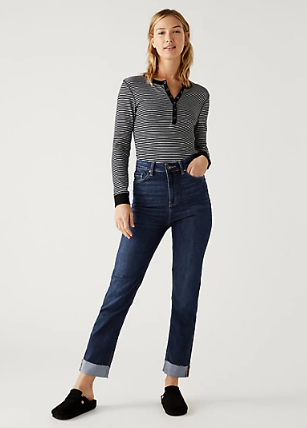 Jeans are the cornerstone of casualwear, and M&S's Harper Supersoft Cigarette Jeans offer comfort and style in equal measure. Crafted from a super stretchy and exceptionally soft cotton-rich fabric, making these jeans feature a flattering cigarette shape with an on-trend high waistline. The button and zip fastening adds a classic touch to the modern design. Perfect for a casual day out or dressed up for an evening event, these jeans prove that style doesn't have to sacrifice comfort.
M&S Cargo Wide Leg Trouser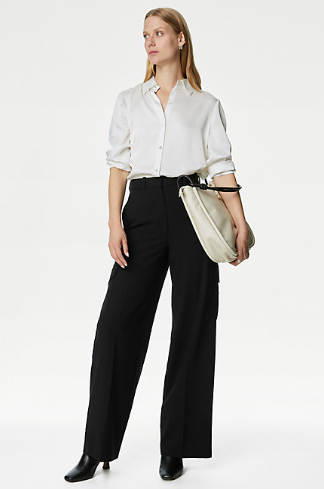 M&S's Cargo Wide Leg Trousers exemplify the brand's ability to merge utility-inspired details with refined style. These woven cargo trousers are a smart-casual favorite, boasting a flattering wide-leg shape and pleated patch pockets. The high waistline with belt loops allows for easy accessorizing, and the hook bar and zip fastening ensure a polished front. A versatile option that seamlessly transitions from office to evening outings.
M&S Strappy Flatform Sandals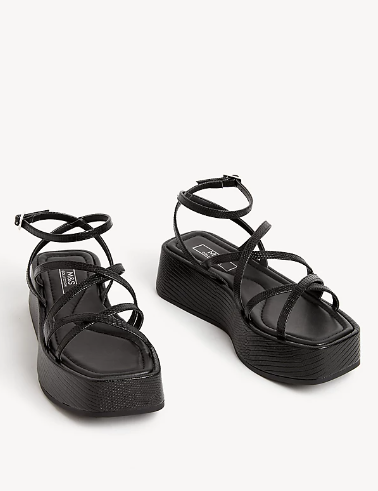 Completing any look requires the right footwear, and M&S's Strappy Flatform Sandals offer a perfect blend of classic and chic styling. These sandals feature on-trend flatform soles and a stylish lizard finish, secured with a buckled ankle strap. With the added benefit of antibacterial padding, comfort, and style go hand in hand.
Final Thoughts
Marks & Spencer's commitment to crafting durable and stylish wardrobe essentials sets it apart in a world saturated with fast fashion and fleeting trends. The brand's emphasis on quality, comfort, and versatility ensures that each piece stands the test of time and remains a staple in any fashion-conscious individual's closet. Whether you're seeking the perfect t-shirt or an iconic trench coat, M&S offers a range of timeless pieces that elevate your style and make building a well-rounded wardrobe effortlessly.