Let's talk about one of my absolute favorite pop stars who has been turning heads not just with her music but also with her fearless fashion choices. That's right, we're diving into the world of Dua Lipa and her undeniable influence on the no-pants trend that has been making waves in the fashion industry.
Stunning Dua Lipa No Pants Appearances
Strap in, because we're about to take a journey through some of Dua Lipa's most iconic no-pants looks that have left us all in awe.
Lace Dreams and Sheer Confidence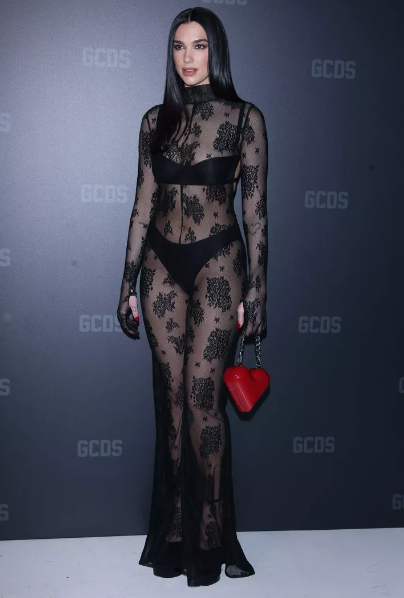 Picture this: Dua Lipa strutting down the runway in an ultra-sheer lace catsuit by GCDS during a fashion show in early 2023. This look wasn't just an outfit; it was a statement. With the confidence to rock a daring outfit that leaves little to the imagination, Dua Lipa showed us all that sometimes, less is indeed more.
Breaking Rules in All White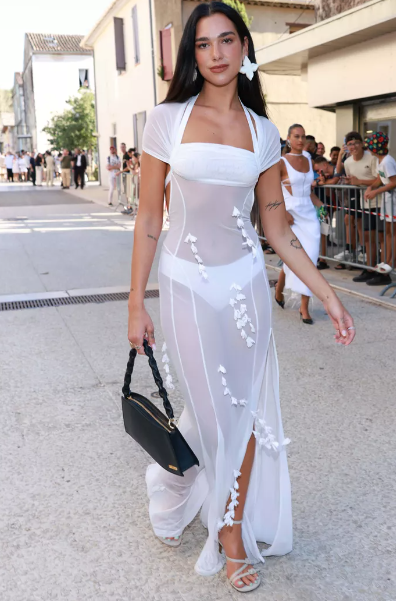 Whoever said you can't wear white to a wedding clearly hadn't seen Dua Lipa's jaw-dropping appearance at Simon Porte Jacquemus and Marco Maestri's wedding. In a breezy, paneled, super sheer dress adorned with cutout florals, Dua shattered the norms and emerged as a style icon who fearlessly bends the rules to match her unique personality.
British Roots and Beehive Glam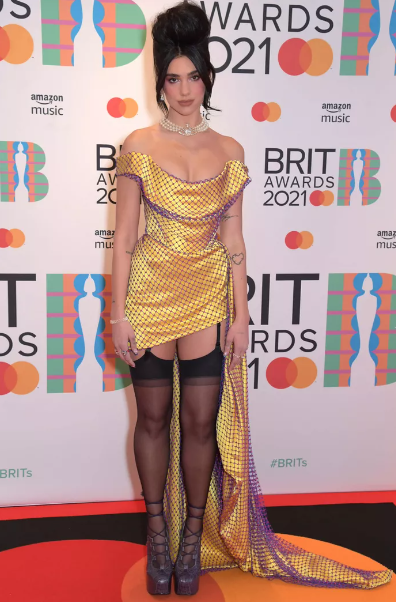 The 2021 Brit Awards were about celebrating British talent, and Dua Lipa did just that with a custom Vivienne Westwood look. Her beehive hair, reminiscent of the legendary Amy Winehouse, paid homage to her roots. Dua Lipa's ability to infuse her personal style with a nod to her influences showcases her depth as a fashion maven.
Grammy Glamour and Sheer Elegance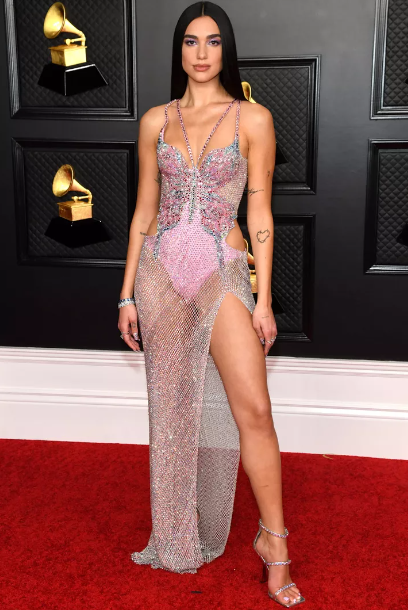 Winning a Grammy is a milestone in any artist's career, and Dua Lipa ensured all eyes were on her that night. Wearing a sparkling sheer Atelier Versace dress with a glittery butterfly detail and thigh-high slit, she exuded glamour and sensuality. This look wasn't just a dress; it was a symbol of her journey and success.
Barbiecore Before It Was Cool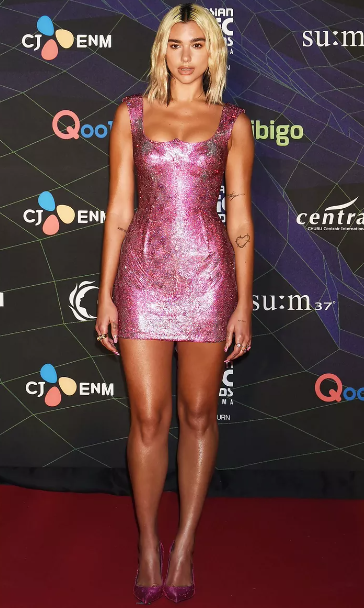 Long before the Barbiecore trend took over, Dua Lipa was already embracing it. A shimmering bubblegum pink mini dress by Versace paired with matching pumps made her look like a real-life Barbie doll. Her confidence and radiant glow turned the streets into her personal runway.
Ostrich Feathers and Y2K Nostalgia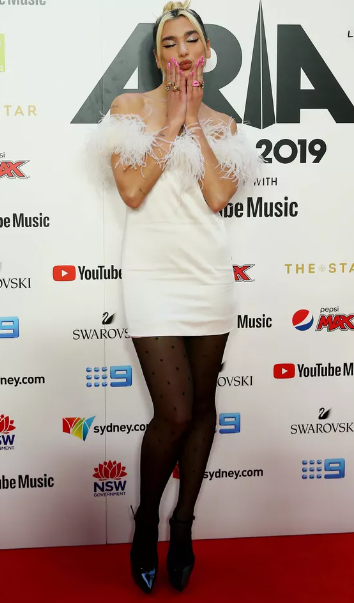 In a strapless Saint Laurent ivory satin mini dress adorned with ostrich feathers at the neckline, Dua Lipa transported us back to the '90s and Y2K era. Her signature center-parted bun and hanging bangs were an homage to that time, proving once again that she's not just following trends; she's setting them.
Sultry and Edgy Bondage Wear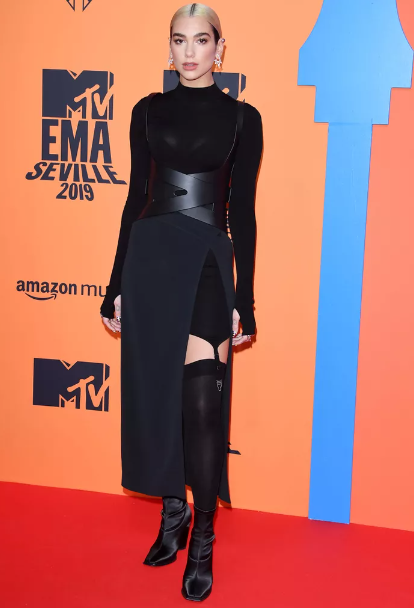 Dua Lipa's ability to make a case for bondage wear is unparalleled. In a racy black dress by Dion Lee, complete with a waist harness and a high-cut slit revealing a sultry garter, she embraced edginess with elegance. This look showcased her ability to take risks and make them look effortlessly cool.
Final Thoughts
Dua Lipa isn't just a pop sensation; she's a fashion trailblazer who has redefined the no-pants trend. Her fearless approach to style, unapologetic confidence, and ability to push boundaries have made her an icon for fashion-forward individuals around the world. So the next time you're contemplating a bold fashion choice, just remember: channel your inner Dua Lipa and rock it with unwavering confidence.