As the leaves turn crispy and the air gets crisp, you know it's that time of year again—sweater weather is here! And guess what? We've got the ultimate lineup of sweater essentials from the iconic brand Sugar Lips that will have you embracing the chilly days in true Y2K style.
Stylish Sweater Weather Must-Haves
Remember those cozy vibes and chunky knits that made the early 2000s such a fashion frenzy? Well, get ready to relive those moments with a modern twist. Here are the must-have pieces to keep you warm and stylish all season long:
Balloon Sleeve Crop Sweater
When it comes to Y2K fashion, it's all about mixing comfort with a dash of glam. The Cable Knit Balloon Sleeve Crop Sweater in Classic Black does just that. With its cropped length and exaggerated balloon sleeves, it's a throwback to the sweaters we adored back in the day. Pair it with high-waisted jeans and chunky boots for an effortlessly chic look.
Mock Neck Sweater Vest
Sweater vests are back, and they are cooler than ever. The Trish Mixed Knit Mock Neck Sweater Vest in White adds a touch of preppy sophistication to your ensemble. Wear it over a collared shirt or layer it with a long-sleeve tee for that perfect Y2K layering effect. You'll look like you just stepped out of a teen drama series!
Cheshire Chevron Eyelash Cardigan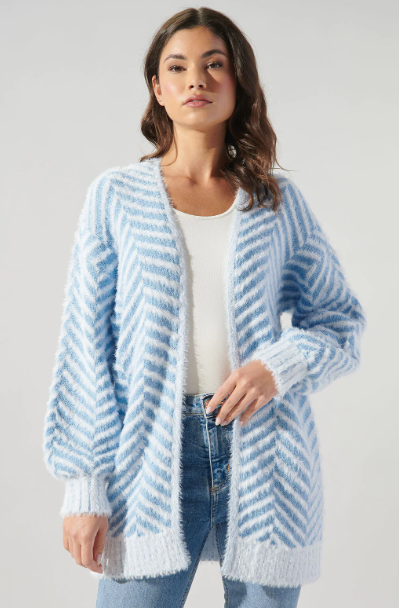 Soft and dreamy, the Cheshire Chevron Eyelash Cardigan in Ice Blue is a winter must-have. Its eyelash texture and chevron pattern add a playful twist to a classic cardigan. Layer it over a slip dress and accessorize with some butterfly hair clips for an authentic Y2K look.
Tiller Eyelash Comb Pattern Sweater Dress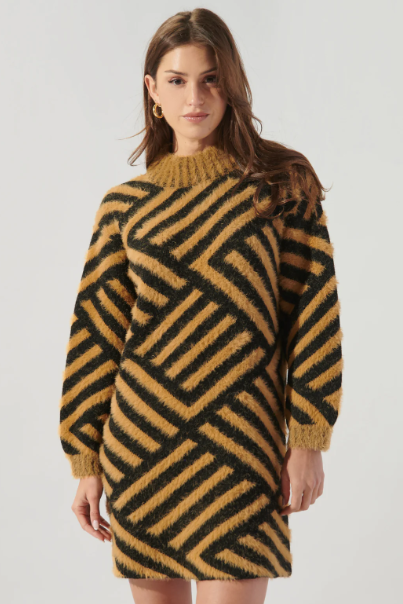 Sweater dresses were a go-to Y2K outfit, and the Tiller Eyelash Comb Pattern Sweater Dress in Black and Tan brings back that magic. This dress combines comfort and style effortlessly. Pair it with chunky sneakers for a casual day out, or dress it up with heeled boots for a night on the town.
Chevron Color Block Sweater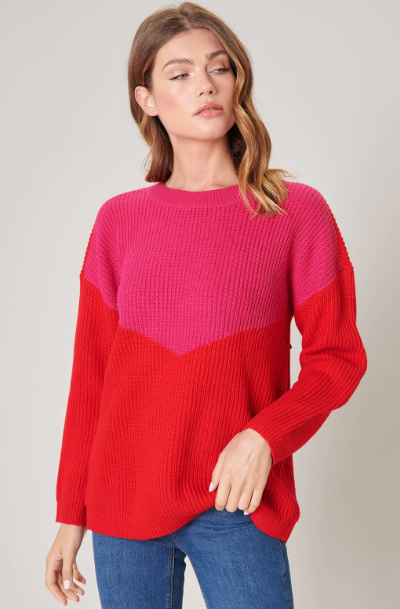 Bright colors and bold patterns were the hallmark of Y2K fashion, and the Chevron Color Block Sweater in Pink and Red ticks all the boxes. The contrasting hues and chevron design make a statement. Throw it on with your favorite denim mini skirt and knee-high boots to channel your inner 2000s pop star.
Final Thoughts
These Sugar Lips sweaters are not just about style; they're about warmth, comfort, and nostalgia. They capture the essence of Y2K fashion, and with the right styling, you can create looks that are as trendy today as they were back then.
So, whether you're binge-watching Y2K teen dramas, dancing to early 2000s pop hits, or simply enjoying the cozy vibes of sweater weather, these must-have pieces from Sugar Lips Brand will ensure you do it all in style. Embrace the Y2K revival and keep warm while looking fabulous—it's a win-win!