When it comes to makeup, I've always been a fan of products that offer both coverage and skincare benefits. BB creams and CC creams have been my go-to choices for achieving that fresh, natural look without the heaviness of a traditional foundation. But if you're like me and have found yourself standing in front of the beauty aisle, trying to decide between these two, let's break down the differences, share some personal experiences, and hopefully make your decision a breeze.
BB Cream vs CC Cream
Everything you need to know about BB and CC creams is ahead - from light coverage and skincare benefits to color correction and complexion-perfecting options.
BB Cream: Beauty Balm or Blemish Balm
BB stands for "beauty balm" or "blemish balm," and these creams are designed to provide a multifunctional solution for your complexion. They often combine the benefits of skincare and makeup in one product.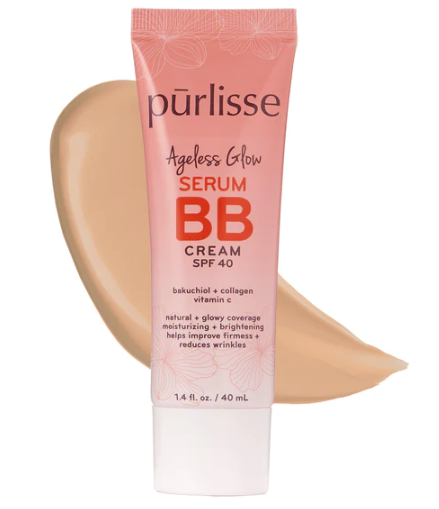 Purlisse Ageless Glow Serum BB Cream SPF 40
Here's what I love about BB creams:
Light Coverage: BB creams offer a sheer to light coverage, perfect for those days when you want to let your natural beauty shine through. They even out your skin tone, blur imperfections, and provide a subtle glow.
Hydration: Most BB creams contain moisturizing ingredients that keep your skin hydrated throughout the day. If you have dry or sensitive skin, BB creams can be a lifesaver.
SPF Protection: Many BB creams come with SPF, protecting your skin from harmful UV rays. It's like a little extra insurance for your daily sun exposure.
Ease of Application: BB creams are easy to apply and blend into your skin. You can use your fingers or a makeup sponge for a quick, fuss-free application.
I remember the first time I tried a BB cream. It was a game-changer for me. My skin felt nourished, and I looked refreshed, without feeling like I was wearing a mask of makeup. I often turn to BB creams during the summer months when I want a light and breathable option that doesn't melt off my face in the heat.
CC Cream: Color Correcting or Complexion Correcting
CC stands for "color correcting" or "complexion correcting," and these creams take things up a notch by addressing specific skin concerns.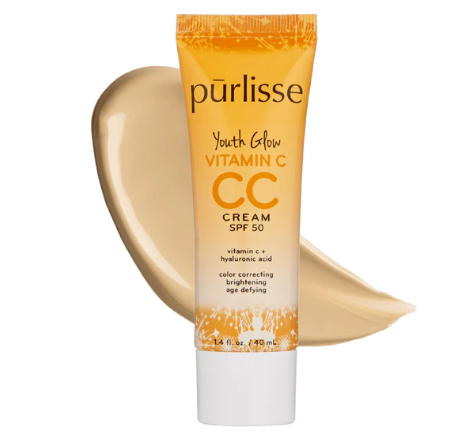 Purlisse Youth Glow Vitamin C CC Cream SPF 50
Here's why CC creams have found a place in my makeup routine:
Color Correction: CC creams are formulated to correct redness, sallowness, or other color imperfections in your skin. They often contain color-correcting pigments that neutralize redness and even out your complexion.
Coverage with Benefits: Like BB creams, CC creams provide some coverage, but they tend to have a slightly better coverage level. They're perfect for days when you want a bit more concealment without the heaviness of a foundation.
SPF and Skincare: Just like BB creams, CC creams often include SPF and beneficial skincare ingredients. It's like having your foundation, sunscreen, and skincare routine all rolled into one.
Customizable: CC creams are available in various formulations to address different skin concerns. Whether you need to combat redness, brighten your skin, or hydrate it, there's likely a CC cream tailored to your needs.
One memorable experience with CC cream was during a particularly hectic week when my skin was looking tired and red due to stress. Using a CC cream not only gave me the coverage I needed but also helped my skin look more even-toned and refreshed. It was like a magic eraser for my imperfections.
So, BB or CC?
The choice between BB and CC creams ultimately depends on your skin type, concerns, and the level of coverage you desire. Here's a quick recap to help you decide:
Choose BB Cream If
You prefer a natural, sheer coverage.
Your skin is on the drier side and needs extra hydration.
You want the added benefit of SPF without a separate sunscreen step.
Choose CC Cream If
You have specific color concerns, like redness or sallowness.
You want a bit more coverage while still looking natural.
You desire the benefits of color correction and skincare in one.
And remember, you can always mix and match or layer these creams to customize your look. For instance, I often use a BB cream as a base and then apply a dab of CC cream where I need a little extra help with color correction.
Conclusion
In the end, both BB and CC creams offer a fantastic way to achieve a radiant, healthy-looking complexion without the heaviness of traditional foundations. So, go ahead, experiment, and find the cream that suits your unique skin and style. Your skin will thank you for it!