Let me begin by saying that I've tried my fair share of yoga leggings. From budget-friendly options to high-end designer brands, I've explored the yoga pants universe in search of the perfect pair. That's when I stumbled upon Lululemon Aligh Pants and Alo Yoga's 7/8 High-Waist Airlift Legging. And let me tell you, these leggings are worth every penny.
Alo Yoga Leggings Review
If you're a yoga enthusiast like me, you know how essential it is to have comfortable and reliable workout gear. Alo Yoga has earned a stellar reputation in the yoga community, and their 7/8 High-Waist Airlift Legging lives up to the hype.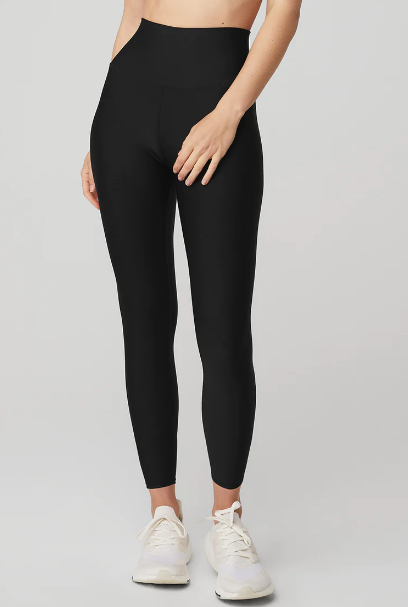 Alo Yoga 7/8 High-Waist Airlift Legging, ($128)
The Fabric
First and foremost, let's talk about the fabric. These leggings are crafted from Alo Yoga's micro-performance double-knit Airlift fabric. It's unlike any other material I've experienced in activewear. The second-skin fit and feel are truly remarkable. When you slip into these leggings, it's as if they were tailored just for you. They hug your body in all the right places, providing a sculpted and smoothed appearance that boosts your confidence both on and off the mat.
Versatility
One thing that stands out about these leggings is their versatility. The 7/8 length hits just above the ankle, which is perfect for petites like me. Whether you're headed to a yoga class, the gym, or simply running errands, these leggings pair seamlessly with your favorite sneakers or slides. I've even worn them for a casual night out with a stylish top and some boots. They're that versatile.
Alo Yoga designed these leggings to flatter every body type, and they truly deliver on that promise. The high-rise waist provides excellent support and helps create a flattering silhouette. No more worrying about your leggings slipping down during your practice. These stay in place, allowing you to focus on your poses.
The Fit
Speaking of fit, the 7/8 High-Waist Airlift Legging is true to size and designed for a snug, compressive fit. This compression is just right - not too tight to feel uncomfortable, but enough to provide the support you need during your workouts. It's like a gentle hug for your legs.
The fabric's 4-way stretch is a game-changer. It moves with you effortlessly, so you never feel restricted in your movements. Whether you're flowing through sun salutations or attempting more challenging poses, these leggings keep up with your every move.
Moisture-Wicking Ability
Another fantastic feature of these leggings is their moisture-wicking property. Yoga can get sweaty, and it's essential to stay comfortable. With these leggings, sweat is quickly absorbed and evaporated, leaving you feeling dry and comfortable throughout your practice.
Now, let's talk about the front-smoothing panel. It's a small detail, but it makes a significant difference in terms of comfort. It eliminates the need for underwear during your practice, providing that "commando comfort" that many of us desire.
How to Clean and Wash
Caring for these leggings is a breeze too. You can hand wash them in cold water and lay them flat to dry. No need to worry about a complicated laundry routine or dry cleaning bills.
Final Words
In summary, Alo Yoga's 7/8 High-Waist Airlift Legging is a game-changer in the world of yoga leggings. They offer exceptional comfort, a flattering fit, and unparalleled versatility. Whether you're a dedicated yogi or simply looking for high-quality activewear, these leggings are worth every penny. They've become a staple in my workout wardrobe, and I can't recommend them enough. Give them a try, and you'll see why they've earned their spot as best-sellers in the yoga community.