Let's talk about leggings, shall we? As someone who practically lives in activewear, I've tried my fair share of leggings from various brands. But let me tell you, there's one that stands head and shoulders above the rest in my book – the Lululemon Align High-Rise Pant. These leggings aren't just a wardrobe staple; they're a game-changer that has earned a permanent spot in my heart (and my closet).
Lululemon Align High-Rise Pant Review
Let me walk you through all the details of Align Pants so you know why i love Lululemon for making these stunning pants.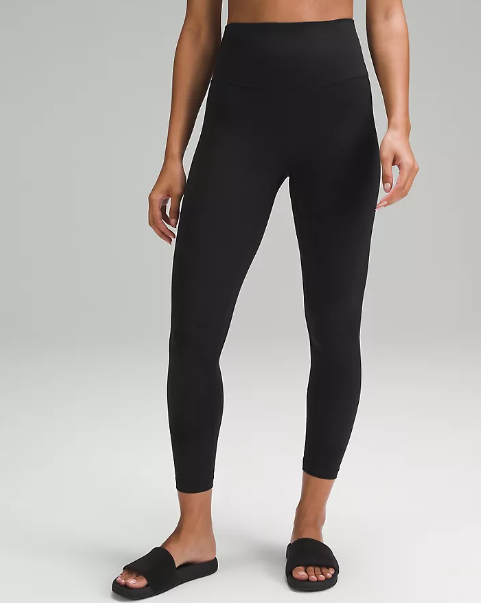 Infinite Comfort
If you're like me and value comfort above all else, the Align Pant is about to become your new best friend. These leggings are not just comfortable – they redefine the meaning of coziness. The moment you slip into them, it's like a warm hug for your legs. The secret lies in Lululemon's ingenious Nulu fabric. It's like wearing a cloud that's been kissed by a gentle breeze.
The "Feels Like Nothing" Feel
You know that feeling when you're wearing something so lightweight and cozy that you forget it's even there? That's the magic of the Align Pant. The Nulu fabric is buttery soft, breathable, and boasts a four-way stretch that moves with you. It's like a second skin that hugs you in all the right places, giving you the freedom to conquer your day without any restrictions.
Versatility
Let's talk about the waistband, shall we? It's a small detail that makes a world of difference. The Align Pant's waistband is a stroke of genius. It strikes the perfect balance between support and comfort, whether you're hitting the gym, lounging at home, or running errands around town. It's like a gentle embrace that holds everything in place without ever feeling restrictive.
Perfect For Every Body
One of the most remarkable things about the Align Pant is its versatility. It's not just a legging; it's a confidence booster. The ultra-stretchy fit is a favorite among pregnant women, adapting to their changing bodies with grace. But it's not just about pregnancy – these leggings celebrate every body type and every stage of life. They flatter, they embrace, and they make you feel like the queen you are.
Final Thoughts
Lululemon struck gold with the Align Pant, and they knew it. That's why they decided to create an entire Align line, catering to our every desire. Joggers for that effortlessly chic look, wide-leg crops for a touch of flair, tanks, dresses, shorts – you name it, they've got it. It's like Lululemon took all our activewear dreams and turned them into reality.
So, if you're on the hunt for leggings that go beyond expectations, look no further than the Lululemon Align High-Rise Pant. These leggings are more than just clothing; they're a statement of comfort, confidence, and style. Slip into the Align Pant, and you'll understand why it's not just a legging – it's a love affair waiting to happen.