If you're anything like me, you're constantly on the lookout for skincare products that are not only effective but also gentle on the skin. Well, my quest for the perfect cleanser recently led me to try Glossier's newest Milky Jelly Cleansing Bar, and let me tell you, it's a game-changer.
The Transition from Liquid to Bar
| | | |
| --- | --- | --- |
| Glossier Milky Jelly Cleanser | | Glossier Milky Jelly Cleansing Bar |
| | | |
Glossier is renowned for its Milky Jelly Cleanser, a cult favorite among skincare enthusiasts. So when they decided to transform this beloved formula into a bar soap, I was intrigued. The idea of a cleansing bar that can be used from face to toe sounded promising, and I couldn't wait to give it a try.
Skin-Loving Ingredients
One of the first things that caught my eye about the Milky Jelly Cleansing Bar is its impressive list of ingredients. Chamomile extract helps to balance and even out the complexion, making it suitable for all skin types. What's more, the product contains five skin conditioners - Allantoin, Sodium Hyaluronate, Pro-Vitamin B5, Betaine, and Shea Butter - all of which work together to soothe dryness and support the skin's moisture barrier. It's a skincare cocktail that's hard to resist.
My Review
The Milky Jelly Cleansing Bar promises a gentle yet effective cleansing experience, and it certainly delivers. As I lathered up the bar and massaged it onto my wet skin, I could feel the soft, creamy texture working its magic. The bar creates a luxurious lather that feels plush and indulgent, making the cleansing process a true pleasure.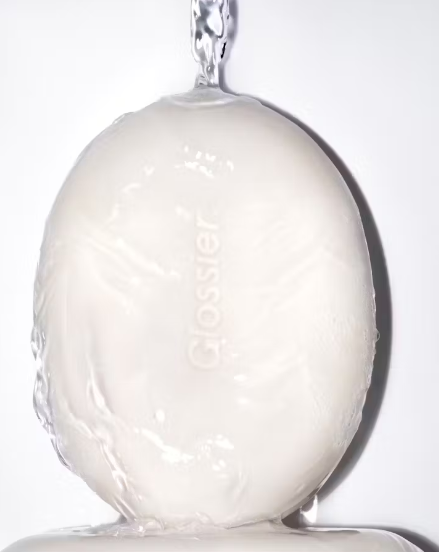 But the real test comes when it's time to rinse. This bar does an excellent job of dissolving oil, dirt, and impurities, leaving my skin feeling fresh and clean. What's remarkable is that it achieves this without leaving any residue behind. My skin feels thoroughly cleansed but not stripped of its natural oils, a delicate balance that can be hard to find in a cleanser.
Is The Glossier Bar Cleanser Hydrating?
One of the standout features of the Milky Jelly Cleansing Bar is its ability to hydrate and nourish the skin. After using it, I noticed that my skin looked smoother and felt incredibly soft. This is undoubtedly due to the rich blend of skin conditioners in the formula. I appreciate that it doesn't leave my skin feeling tight or dry, which is often the case with other cleansers.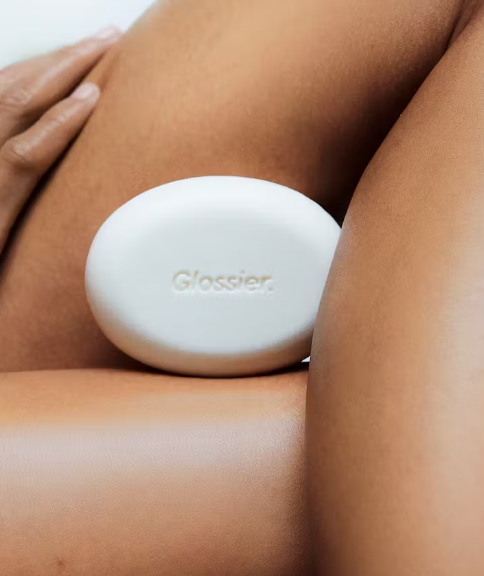 According to Glossier, 97% of users agree that their skin looks smooth and feels soft after using this bar. I can confidently say that I'm among that 97%. Additionally, 94% of users appreciate the creamy texture and the plush lather it creates, while the same percentage agree that it effectively dissolves oil, dirt, and impurities without any residue. Furthermore, 91% of users feel that their skin looks and feels nourished, conditioned, and comfortable, and I couldn't agree more.
Is The Glossier Bar Cleanser Easy to Use?
Another aspect I love about this product is its practicality. The Milky Jelly Cleansing Bar comes in a convenient, ergonomically-designed shape that fits comfortably in the hand. Plus, being a bar cleanser, it's easy to use from head to toe. It's a space-saving and eco-friendly option for those who prefer a multi-purpose cleansing product.
Final Thoughts
Glossier's Milky Jelly Cleansing Bar has quickly become a staple in my skincare routine. It's gentle, effective, and versatile, catering to the needs of various skin types. The carefully selected ingredients and the luxurious cleansing experience it provides are simply unbeatable.
If you're in search of a cleansing product that respects your skin's natural pH, leaves it feeling hydrated, and doesn't compromise on quality, I highly recommend giving Glossier's Milky Jelly Cleansing Bar a try. It's a skincare revelation that has left me with soft, nourished, and happy skin from face to toe.
RELATED: 14 Best Glossier Products You Need in Your Beauty Routine