If you're like me, someone who believes that makeup should enhance your natural beauty rather than mask it, you've probably been waiting for Glossier to step up its game in the coverage department. Well, the day we've been hoping for has finally dawned. Glossier, the brand that brought us the effortlessly chic "no-makeup makeup" look, has unveiled its first-ever foundation: the Stretch Fluid Foundation. And let me tell you, it's been a game-changer.
Before we dive into the nitty-gritty, let's take a moment to appreciate Glossier's philosophy. "Skin first, makeup second" has been their mantra since they burst onto the scene in 2014. Glossier's beauty products have always been designed to highlight and embrace your skin's natural beauty, rather than masking it under layers of heavy makeup. While this ethos has garnered them a dedicated following, those of us who crave a touch more coverage have been crossing our fingers for a foundation that fits the Glossier vibe. Well, guess what? The wait is over, my friends.
Glossier Stretch Fluid Foundation Review
On August 22, Glossier unleashed its Stretch Fluid Foundation, and let me tell you, it's been a game-changer.
The inspiration behind this foundation hails from Glossier's beloved Stretch Balm Concealer. Fans of the brand had been embracing the concealer not just for covering up pesky blemishes and those late-night under-eye circles, but also for its skin-like finish. That's exactly what Glossier aimed to capture in their new foundation formula.
The magic doesn't stop there. Glossier realized that if they were going to introduce a foundation, they had to get the shade range spot-on. So, in a move that underscores their commitment to inclusivity, they expanded their shade offering, adding a whopping 20 new shades to their existing stretch concealer range.
Now, here's where the real skincare-meets-makeup magic comes into play. Glossier is all about nurturing your skin. The Stretch Fluid Foundation lives up to this philosophy with a 89% skincare-infused formula. Imagine a hydrating gel-cream concoction that delicately veils your skin, leaving behind a finish that's all you, just a tad enhanced. Squalene and glycerine swoop in to hydrate and strengthen your skin's barrier. And guess what? Rose berry and plankton are on board to keep excess shine in check, making this foundation a feasible option for all skin types.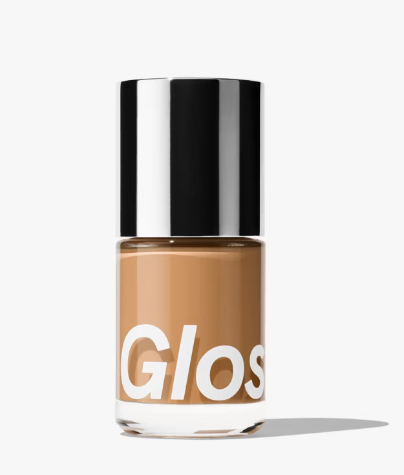 Glossier Stretch Fluid Foundation, ($34)
But here's the real kicker: the Stretch Fluid Foundation is made to move with your skin. It's like a second skin that doesn't budge. Those amino acid-coated pigments? They're the unsung heroes behind the flawless, stay-put coverage that lasts all day. You can strut around town or dance the night away without fretting about touch-ups.
Now, let's talk about options. With 32 shades spread across seven categories and five undertones, Glossier's got you covered – literally. They're leaving no stone unturned to ensure you find your perfect match.
And don't even get me started on the application. While you can totally rock the foundation with your fingers, Glossier has launched the Stretch Face Brush. It's inspired by the ancient Gua Sha technique and designed to lovingly embrace the contours of your face, making application a breeze.
Final Thoughts
So, what's the final verdict? As someone who's always admired Glossier's minimalistic yet effective approach, I must say, they've nailed it. The Stretch Fluid Foundation isn't about transforming you into someone else; it's about elevating what you already have. It's like a confidence booster in a bottle (or should I say, a chic little tube?). Whether you're a Glossier veteran or a newbie, this foundation is a must-try. Glossier kept its promise of "skin first," while giving us just the right amount of "makeup second."
So, go ahead and rock that Glossier glow with a touch more coverage. Your skin, but better – that's what Glossier's all about, and the Stretch Fluid Foundation embodies that ethos flawlessly. It's time to let your natural beauty shine, with just a little help from your new favorite foundation.