Halloween is just around the corner and if you're like most people, you're probably scrambling to finalize your costume. But don't forget one of the most important elements - the makeup. Whether you're going for something scary or just want to add a touch of spookiness to your look, we've got you covered with these simple Halloween makeup looks.
Worth Copying Halloween Makeup Looks
So grab your brushes and get ready to transform yourself into a Halloween spirit through makeup trends.
Classic Cat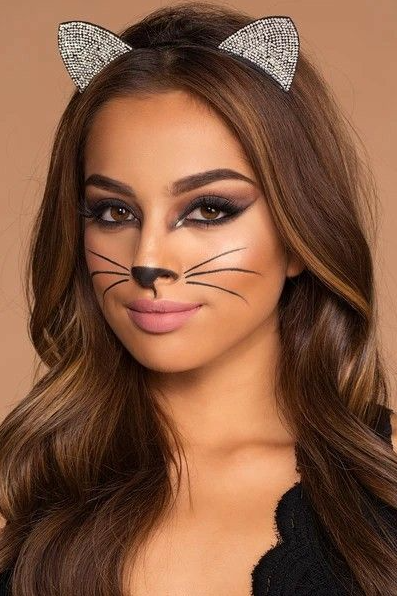 One of the most timeless and simple Halloween makeup looks is the classic cat. All you need are a few makeup essentials, including black eyeliner, eyeshadow, and some blush. Start by creating dramatic cat-eye wings with your black eyeliner, extending the lines a bit farther than you would for your everyday look. Next, use the same eyeliner to draw a cute little nose and some whiskers on your cheeks. Finish off the look with some dark eyeshadow to create a smoky effect, and add a touch of blush to your cheeks for that feline glow. Voilà! You're a sleek and mysterious cat ready to prowl the night.
Elegant Vampire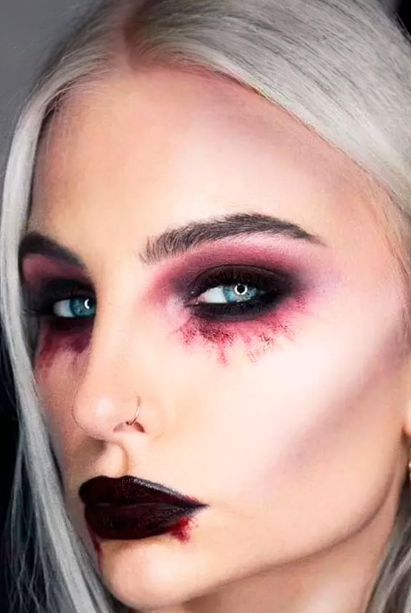 For a minimalist take on a Halloween classic, the elegant vampire look is a sure winner. Begin with your regular makeup base, but add a little extra concealer under your eyes for that sun-deprived look. Use a deep red lipstick to create bold, vampire-worthy lips. Dab a bit of the same lipstick on your fingertips and smudge it around your lips to create a subtle bloodstain effect. Finish off the look with a hint of dark eyeshadow to emphasize your eyes, and you're ready to enchant and mesmerize as a sophisticated vampire.
Mysterious Masquerade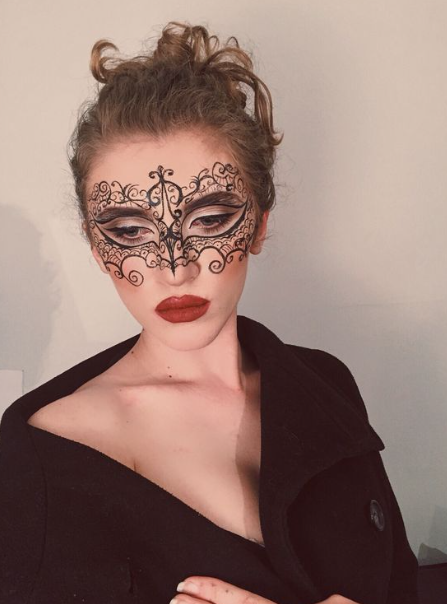 The masquerade mask is an iconic symbol of mystery and intrigue, perfect for a simple Halloween makeup look. Start with your base makeup and then create a mask shape around your eyes using black eyeliner or face paint. You can go as intricate or as simple as you like, but even a basic mask shape will do the trick. Add some glitter or rhinestones around the edges for a touch of elegance and mystery. To complete the look, add some dark eyeshadow and bold mascara to make your eyes pop. With your enigmatic masquerade mask, you'll be the center of attention at any Halloween soiree.
Creepy Doll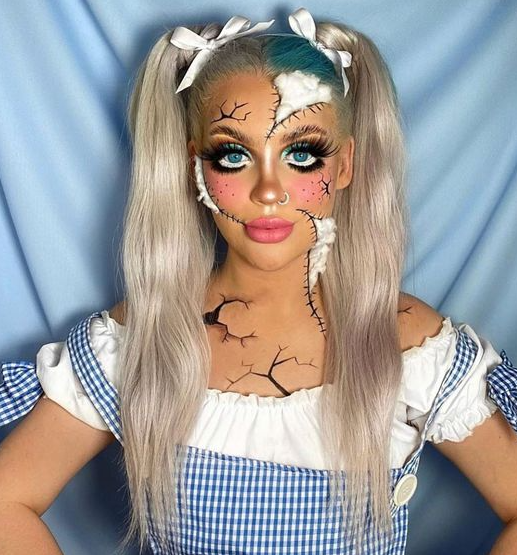 Dolls can be downright creepy, and this easy Halloween makeup look captures that eerie essence. Start with a porcelain-like base by applying a light foundation and setting it with powder. Use eyeliner to draw exaggerated doll-like eyes, emphasizing the lower lash line to create a larger, more unsettling appearance. Add rosy blush to the apples of your cheeks and draw a red heart shape on your lips. Finish by applying mascara to your upper lashes only for a wide-eyed, doll-like effect. With your unsettlingly sweet doll makeup, you'll give everyone the creeps.
Day of the Dead Calavera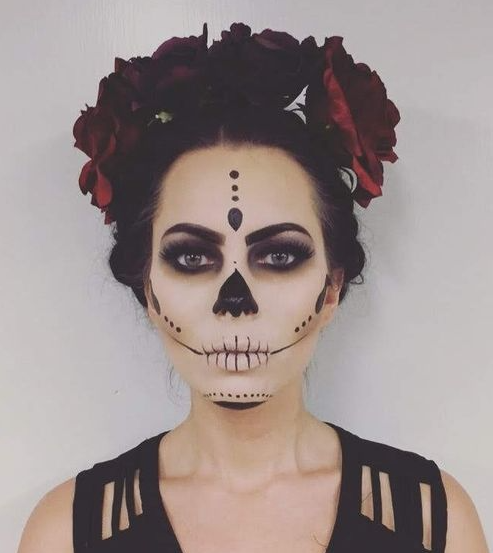 For a festive and culturally inspired Halloween look, consider the Day of the Dead Calavera makeup. Begin by creating a white base on your face with a white face paint or makeup. Then, use black eyeliner or face paint to draw intricate sugar skull designs on your face, including flowers, swirls, and decorative patterns. You can use reference images or get creative with your own designs. Add some bright and colorful details using face paint or eyeshadow to complete the Calavera look. It's a striking yet simple way to pay homage to this Mexican tradition.
Conclusion
Halloween is all about embracing your spooky side, and you don't need elaborate costumes or hours of makeup application to do it justice. These minimal Halloween makeup looks are perfect for those who want to get into the spirit of the season with ease. Whether you choose to become a classic cat, an elegant vampire, a mysterious masquerade attendee, a creepy doll, or a Day of the Dead Calavera, you're sure to turn heads and have a hauntingly good time.