I'm irresistibly drawn to the enchantment of bleach. Since my early teens, I've been diligently highlighting and bleach-and-toning my originally mousy blonde hair. This extensive experience has given me insight into managing stressed-out hair and repairing it. While I've occasionally ventured into darker shades, my ultimate confidence lies in being a radiant blonde, making aftercare an indispensable part of my hair care regimen.
My consistent use and adoration for the renowned K18 Molecular Repair Leave-In Mask span over two years. This treatment is a savior for restoring and reconnecting the damaged hair's polypeptide chains and bonds from the inside out. I employ it multiple times each month, forsaking traditional conditioner. Instead, I apply it to damp hair after my shower, allowing it to soak in for the prescribed four minutes before proceeding with my usual styling routine. My colorist attributes the resilience of my hair to K18, enabling me to withstand frequent bleaching and heat styling. Previously, I had to visit the salon for a bleach and tone service approximately every six weeks.
When I caught wind of K18's release of a complementary product, The K18 Molecular Repair Hair Oil ($65), I was exhilarated. Hair oils have been a fixture in my haircare arsenal for years, but my go-to products were no longer delivering the desired results. I'm currently transitioning from a bleach and tone approach to highlights to reduce maintenance, and I'm contending with stubborn pastel pink residue that refuses to fade. As a result, my hair has started to feel like a scientific experiment, prompting my quest for a suitable hair oil.
About K18 Molecular Repair Hair Oil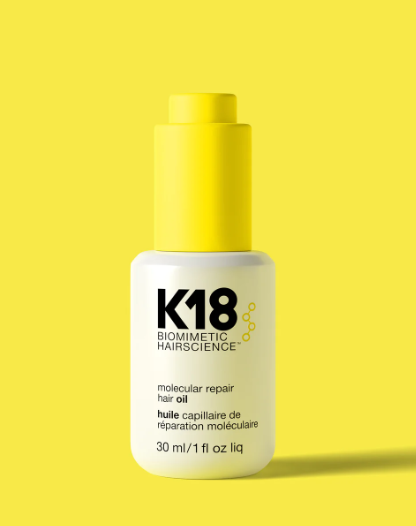 K18 Molecular Repair Hair Oil ($65)
The K18 Molecular Repair Hair Oil functions similarly to the leave-in treatment, repairing damaged hair from the core and consequently reducing frizz and flyaways. The brand's patented K18Peptide effectively bridges the gaps in the fractured polypeptide chains constituting our hair, thereby reestablishing and bonding them. Hair assimilates this artificial restoration as if it were natural, resulting in not only cosmetic enhancements but also overall hair improvement.
Squalane, avocado oil, and sunflower oil immediately go to work on the hair's surface, nourishing it, smoothing flyaways, and enhancing its shine. The oil also offers heat protection up to 450°F and boasts impressive claims, including 24-hour frizz control and a 78% reduction in split ends. In essence, it seems to cover all the bases. However, can it live up to the standards set by its predecessor? Those are some mighty big shoes (or bottles) to fill.
K18 Molecular Repair Hair Oil Review
You can apply the hair oil either in conjunction with the leave-in on damp hair (after the obligatory four-minute wait) or on dry hair to tame frizz and enhance shine. For my initial test, I opted for both methods. Following my regular hair-washing routine (sans conditioner), I applied the treatment and three drops of the oil. I finished by applying a small amount of curl cream to define my natural wave pattern more clearly.
Once my hair was completely dry, I dispensed two substantial droplets of the oil into my palm and scrunched them into my hair, with a particular focus on the mid-lengths and ends, where my waves tend to be thirstiest. The excess oil was used to gently pat down any flyaways around my face. Just like the treatment, a little bit of the oil goes a long way, so it's best to start with a small amount and add more if necessary.
While some hair oils have a tendency to sit on top of the hair without fully absorbing into the strands, the K18 Molecular Repair Hair Oil is quickly absorbed, leaving a lightweight finish and a subtle, clean scent that doesn't linger or overstay its welcome (I've got perfume for that). For the entire day following my initial application, my hair felt exceptionally soft and silky. I would recommend that individuals with thin or fine hair exercise some restraint when applying the oil.
The Molecular Repair Hair Oil isn't intended to replace styling creams and lotions, but if you're grappling with damaged and parched hair and can't do without the original leave-in cream, it's a valuable addition to your routine. If my hair had a voice, it would undoubtedly be saying, "Thank you."